Top 5 Things To Do in NYC on 4/20
Hey Stoners! Welcome to The Johno Show I'm your host Jonathan and we are celebrating the lead up to 420 with a countdown of the top 5 things to do on 420. Yeah!!
I will definitely be attending at least one of these events but I can't tell you which one because I haven't made up my mind yet. So I have put these in descending order of my personal preference. If you're in the mood to celebrate with me just Tweet @Johnoed the afternoon of 4/20 and I'll let you know where I'm going to be that night.
Thing To Do Number 5:
REEFER MADNESS REUNION CONCERT
In my most expensive suggestion of things to do – 54 Below will be celebrating the 10th anniversary of the hit Showtime movie Reefer Madness! Featuring original cast members and special guest stars, this two-night-only event tells the cautionary tale of Jimmy Harper, an American teenager, who is viciously dragged into a downward spiral of sex, debauchery, and jazz music by the deadly drug assassin known as Marijuana.
COVER: $42 – $65
PREMIUMS: $60 – $100
COVER CHARGE PURCHASED AT THE DOOR AN ADDITIONAL $5
FOOD & BEVERAGE MINIMUM: $25
Which means you ain't getting out of there without spending $100 and you know what we say in Cannabis Culture…if you have $100 you're probably going to be happier spending it on more Cannabis.
Thing To Do Number 4:
What's your favorite concert film of all time? For me it's Roger Water's The Wall but for many Deadheads it's "The Grateful Dead Movie" and it's returning to theaters on 4/20, for one night only, to mark the 40th anniversary of its release.
Thursday's screenings are at 7 p.m. and the film is playing in the city at Union Square 14, Empire 25, and Kips Bay 15. Tickets are $12.50 and information is available at fathomevents.com.
Before the movie, theaters will screen a mini-documentary in which fans reminisce about the band's May 8, 1977, show at Barton Hall at Cornell University — a set that, for many fans, is the most famous Dead concert of all time. Tapes of that show were added to the National Recording Registry of the Library of Congress in 2012. That concert was later released in a three-CD boxed set.
The concert footage in "The Grateful Dead Movie" was taken during the band's five-night run at San Francisco's Winterland in October 1974. The film was co-directed by Garcia and Leon Gast.
Thing To Do Number 3:
What's better than watching a great stoner filmed on 4:20. Oh yeah, watching it with other stoners!! That's why the Syndicated in Brooklyn is showing some of the best stoner flicks of all time including The Big Lebowski at 7pm and Harold & Kumar Go to White Castle at 10pm. And just for $4 each. The best part is, if you get the munchies, you can order food like burgers and nachos straight from your seat. The Syndicated is located at 40 Bogart Street in Brooklyn between Grattan and Moore Sts. You just need to take the L subway to Morgan Ave.
Thing To Do Number 2:
Yum's the Word, an ongoing storytelling series, produced and hosted by Robin Gelfenbien will focus the night's attention on stories having to do with being high. In addition to stories from a stellar lineup audience members are invited to feast on Robin's multiple homemade ice-cream cakes. Yum's the Word takes place at The Gallery at le poisson rouge at 158 Bleecker St between Sullivan and Thompson Street. Price is $15 and the event starts at 7PM.
Thing To Do Number 1:
John Kehoe and company return with their annual performance of pot-fueled hilarity in "420: The Musical", which follows Jerry, the uptight stoner, as he visits the Land of 420 to learn some important life lessons. Sit back and take a trip into a fantastical realm where the laughs are plentiful and the munchies are free. Really, complimentary snacks are provided. The event is held at the Kraine Theater on 85th, East 4th Street between the Bowery and Second Avenue. Cost is $15 and there are two showings that night 7 & 9:30PM.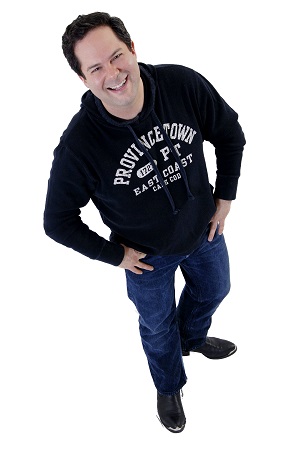 Jonathan is a Marketing Consultant by day and a Weedtuber by night. He holds an MBA in Entrepreneurial Studies from Fairleigh Dickinson University; an MS in Computer Science from the College of New Rochelle and a BFA in Graphic Design and Photography from the Ringling College of Art and Design. Jonathan's primary consulting focuses on customer journey mapping, competitor and analytic analysis as well as search engine optimization. Jonathan has written numerous articles for the Huffington Post as well as a variety of marketing industry websites and journals. In 2015, Jonathan suffered from a ruptured disk in his back causing terrible pain. Doctors prescribed numerous pain killers that only made Jonathan more sedentary. Looking for an alternative to suggested surgery, Jonathan obtained a New Jersey medical marijuana card. Since then Jonathan has become an advocate for medical use of cannabis. When he's not consulting or making episodes of The Johno Show he has season tickets to his favorite MLS soccer team the New York Red Bulls Arena.