5 Projects with Lester Matthews aka Newnue from YBN Entertainment
I'm here with my friend Lester Matthews aka Newnue from YBN Entertainment. He's a writer, producer and actor and he's going to tell us about 5 of his current projects.
Project 1) The Circle & The Circle NYC
So the first season of The Circle is much different than it is now. You went back home with some friends and we got introduced to your family.
Now you've changed the name slightly to The Circle NYC and it follows the lives of five LGBTQ entertainers in New York City including Travis, Tamara a trans person, Envy a porn star, Damien a musician and you.
This show is high drama from beginning to end. How much of that is the camera catching the moment or the moment saved for the camera?  
Project 2) Sex Tales
Is a group of guys talking about sex. There are different segments and special guests. It definitely gets wild. But now my question is the last episode of this season you title The Final Sex Tales. Is that true? What happened?
Project 3) The Commute – This is a 4 part film about life in New York City. There's a lot of sex, violence and controversial topics. It's your first foray into a near feature film right?
Project 4) Livin' Manmade
A Reality Series FIRST TRANS Urban Reality/Docu Series
Project 5) 1 On 1 with Newnue
This is an interview series where you personally talk to celebrities and socialites about the different topics that affect the LGBT Community.
Thank you for watching. As always please share this with your friends on social media and give it a thumbs up and leave me a comment. Also please consider subscribing and consider supporting The Johno Show on our Patreon page. Thank you Bye!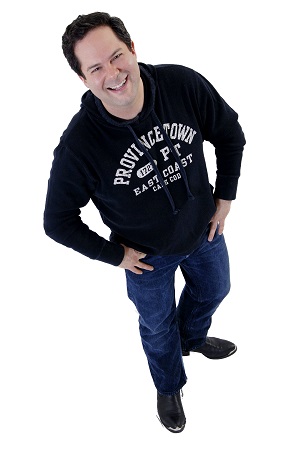 Jonathan is a Marketing Consultant by day and a Weedtuber by night. He holds an MBA in Entrepreneurial Studies from Fairleigh Dickinson University; an MS in Computer Science from the College of New Rochelle and a BFA in Graphic Design and Photography from the Ringling College of Art and Design. Jonathan's primary consulting focuses on customer journey mapping, competitor and analytic analysis as well as search engine optimization. Jonathan has written numerous articles for the Huffington Post as well as a variety of marketing industry websites and journals. In 2015, Jonathan suffered from a ruptured disk in his back causing terrible pain. Doctors prescribed numerous pain killers that only made Jonathan more sedentary. Looking for an alternative to suggested surgery, Jonathan obtained a New Jersey medical marijuana card. Since then Jonathan has become an advocate for medical use of cannabis. When he's not consulting or making episodes of The Johno Show he has season tickets to his favorite MLS soccer team the New York Red Bulls Arena.