The Johno Show Cannabis 420 News: Sir Patrick Stewart Admits to Using Marijuana
Hey Stoners Welcome to The Johno Show I'm your weedtuber host Jonathan. It's Monday March 6th 2017 and this is your weed news of the week. Our main story tonight is legendary actor Sir Patrick Stewart admits to using cannabis. But first our other weed news.
Story 1:
In "Don't Copy My Data" News…
Oregon lawmakers worried about a nationwide crackdown on legalized marijuana are rushing to protect the personal information of pot customers.
A bipartisan group of lawmakers is introducing legislation that would require pot businesses to destroy internal logs of their customers' names, addresses and birth dates within 48 hours. Currently, Oregon dispensaries have been keeping the data for marketing purposes.
Lawmakers from other states would be doing their constituents a solid by jumping on this type of legislation for their home states and protecting those currently listed as legal cannabis consumers.
Story 2:
In "Let My Cannabis Grow" News…
Starting March 1st in California, PG&E customers growing medical cannabis can apply for reduced electrical rates and cost savings.
A PG&E spokesperson said quote: "Cannabis is a legal crop in our state, like almonds and tomatoes. Agricultural growers now will be eligible for the same rate and energy efficiency programs as farmers of other crops, now that cannabis is in California's future, our next step is to work with these new agricultural customers and make this industry as energy efficient as possible."
The agricultural energy rate applies both to customers who grow cannabis outdoors as well as indoors.
While recreational cannabis cannot be sold in California until January 2018, existing medical cannabis growers and future recreational growers are eligible for the program. PG&E's agricultural energy rate does not apply to residential customers who under Prop. 64 can legally grow up to six cannabis plants inside a private residence.
Story 3:
In "Is This Organization Even Still Relevant" News…
The United Nations International Narcotics Control Board (INCB) issued a stark warning to the U.S., Canada and other countries where marijuana legalization is being considered and enacted.
According to the UN mandate, countries are prohibited from legalizing cannabis — except for medical and scientific purposes.
Eight U.S. States have moved to end marijuana prohibition. Uruguay has completely legalized it and Canada's government has pledged to legalize marijuana by the spring.
As I reported a couple of months ago the INCB was in fact taking up the debate as to if they should move to accept a country's decision to legalize marijuana. But while currently opposing legal regulation of marijuana markets, INCB is now on board with simple decriminalization.
While the U.S. can argue that it is still in compliance with INCB because marijuana remains illegal federally Canada's national legalization plan will put the country in direct conflict with its obligations under the conventions.
So Canada has a couple of choices. First, the country could withdraw from the treaties. Second, the government could argue that moving marijuana out of the criminal market is a harm reduction measure and therefore the legalization of cannabis for all adults falls under the medical and scientific exceptions. Third, the country could collect data on legalization outcomes, in effect framing the end of prohibition as one big scientific study.
Either way, the U.S., Canada and Uruguay show no intention of stopping the march toward legalization simply because the INCB isn't happy.
Story 4:
In "You Can't Just Give The Shit Away" News…
In Springfield Massachusetts, The owner of "Mary Jane Makes Your Heart Sing" – yeah that's the name of the store – was issued a cease and desist letter by police for violating the state's recreational marijuana law when the shop offered patrons free "gifts" of marijuana after paying a $20 cover at the door. Customers could opt for a $50 VIP pass, which would ensure them three free samples of different strains of marijuana.
In Massachusetts, stores cannot sell the drug until 2018. Mary Jane's website advertised "a marijuana infused chocolate bar upon every visit to the store" or "a complimentary gram." There were no arrests or citations given when the store was shut down.
Finally our top story…
Sir Patrick Stewart icon of the Star Trek and X-Men franchises has revealed he uses a medicinal cannabis spray to help with his hands. He says quote:
"My main problem is my hands don't work very well. But thanks to cannabis they work much better than they used to. Thanks to the law in California now, it's just a spray that I put on."
Now you might be saying to yourself is that really worth the top news story. Well, let me explain why it is. As I've mentioned many times, we are about to take on a fight between states rights and federal rights around the subject of legalizing marijuana. The key to winning these fights is organization and communication.
We must communicate the message that Cannabis heals. And there is no better way in an entertainment obsessed culture than to have a huge star like Sir Patrick Stewart explain that he uses cannabis for medicinal purposes.
We must actively fight against the stoner persona. So when an individual like Sir Patrick Stewart who has the ear of the media comes forward to explain that he too use this medicine, it is vital we push those details forward to the top story.
Now onto ANNOUNCEMENTS
Don't forget to enter the FocusVape Pro contest we have going on here at The Johno Show this month. One lucky winner will get a FocusVape Pro Pen and three runners up with get a Vaped.com grinder. Thank you to Vaped.com for sponsoring this contest.
ENTER FOR A CHANCE TO WIN THE VAPED.COM CONTEST: http://bit.ly/2kXYFgJ
If you have an announcement or a question please send them to me via social media.
Thank you for listening. Please let me know if you liked this episode by sharing it with your friends on social media and giving it a thumbs up. If this is your first time here please consider subscribing. The Johno Show produces a Daily Show Monday through Thursday. Thank you for letting me be a small part of your lives. Please subscribe and consider supporting The Johno Show on our Patreon page. Thank you Bye!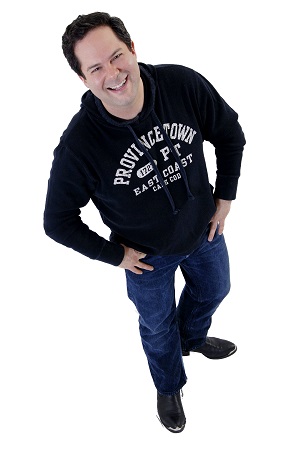 Jonathan is a Marketing Consultant by day and a Weedtuber by night. He holds an MBA in Entrepreneurial Studies from Fairleigh Dickinson University; an MS in Computer Science from the College of New Rochelle and a BFA in Graphic Design and Photography from the Ringling College of Art and Design. Jonathan's primary consulting focuses on customer journey mapping, competitor and analytic analysis as well as search engine optimization. Jonathan has written numerous articles for the Huffington Post as well as a variety of marketing industry websites and journals. In 2015, Jonathan suffered from a ruptured disk in his back causing terrible pain. Doctors prescribed numerous pain killers that only made Jonathan more sedentary. Looking for an alternative to suggested surgery, Jonathan obtained a New Jersey medical marijuana card. Since then Jonathan has become an advocate for medical use of cannabis. When he's not consulting or making episodes of The Johno Show he has season tickets to his favorite MLS soccer team the New York Red Bulls Arena.