Waxmaid Silicone Magneto S Waterpipe Official Review with Mango Haze Cannabis
Fans of The Johno Show can use the VIP coupon code ' johno' to get 5% off at http://www.waxmaidstore.com
Hey Stoners Welcome to The Johno Show I'm your host Jonathan. We are here with my friend Nick who runs Givebac Rolling Papers. We're gonna talk to him in depth about his company later in the week but right now it's strain review day PLUS we are reviewing the waxmaid silicone magneto s waterpipe. So here are the top 5 facts of the Cannabis strain known as Mango Haze. Yeah!
So Nick before we get into all this tell us about your company Givebac.
Before we light up let's talk a little about Waxmaid's newest product. What we have here are the Miss and Mr Y starter kit they are made from BPA Free, Non Toxic, 100% FDA Approved Food Grade, Platinum Cured Silicone. They have a Magnet to hold your lighter on the side. The two part structure is easy to clean out. They are portable to go and you can work hands free using the pendant. The Miss and Mr. Y starter kit comes in a unique design, 18mm adapter, invisible stem with a 14mm glass bowl inside the body and it's available in 11 different colors. You can check out these and other Waxmaid products at the waxmaidstore.com website and get 5% off your order when you use the VIP Coupon Code 'johno' at checkout.
Now let's light up and talk about Mango Haze.
Fact Number 5: History & Lineage
Mango Haze was created by Mr. Nice Seeds, who crossed Northern Lights #5, Skunk, and Haze to create this strain. Its sibling strain is Super Silver Haze but Mango Haze gives off a distinctive mango aroma.
Fact Number 4: Positive vs Negative Effects
Mango Haze is perfect for treating fatigue, chronic stress or anxiety, mild to moderate cases of depression, and chronic migraines or headaches.
Effects are Happy, Relaxed, Uplifted, Energetic and Creative
Medical – Depression, Stress, Pain and Fatigue
Negatives – Dry Mouth
This strain gives you a blissful energetic high with a powerful creative energy and motivation that is anchored by a slowly building relaxing body high.
Mango Haze is perfect for a day when you need an energetic boost that is also pain relieving.
Fact Number 3: Sativa vs Indica & THC/CBD Levels
Mango Haze is a perfectly balanced hybrid (50% sativa/50% indica) strain with the THC between 17% – 23%
Fact Number 2: Appearance, Smell & Taste
Mango – Tropical and Sweet
The Mango Haze buds have a delicious aroma of sweet mango with a hazy hint of sweet tropical fruit and earthiness. Exhaling this strain produces a sweet pleasant aroma.
Fact Number 1: You Gotta Smoke It to Know It!
So how do we feel?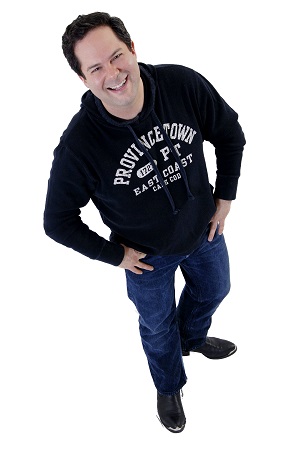 Jonathan is a Marketing Consultant by day and a Weedtuber by night. He holds an MBA in Entrepreneurial Studies from Fairleigh Dickinson University; an MS in Computer Science from the College of New Rochelle and a BFA in Graphic Design and Photography from the Ringling College of Art and Design. Jonathan's primary consulting focuses on customer journey mapping, competitor and analytic analysis as well as search engine optimization. Jonathan has written numerous articles for the Huffington Post as well as a variety of marketing industry websites and journals. In 2015, Jonathan suffered from a ruptured disk in his back causing terrible pain. Doctors prescribed numerous pain killers that only made Jonathan more sedentary. Looking for an alternative to suggested surgery, Jonathan obtained a New Jersey medical marijuana card. Since then Jonathan has become an advocate for medical use of cannabis. When he's not consulting or making episodes of The Johno Show he has season tickets to his favorite MLS soccer team the New York Red Bulls Arena.