2018 Farm Bill Passes with Flag on The Play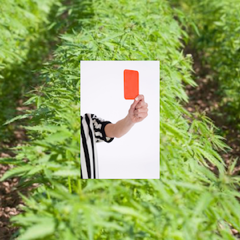 On Thursday, December 21, 2018, our president officially signed and passed the 2018 Farm Bill. This bill ends the prohibition of hemp in the United States, making it a historical day in our history. The passage of this bill will begin the regrowth of hemp as an agricultural crop in America. As important as this is, there is still much work to be done beginning at the state level to protect our rights and freedoms when it comes to growing, producing, and distributing hemp products that contain CBD.
Last week we covered what the Farm Bill means for sports, and today we're going to look at some positive highlights of the bill, along with the major flag on the play that need to be addressed. Hemp is no longer considered a controlled substance, but states and Native American tribes will each need to submit their own programs. Interstate movement of hemp, like stalks, fiber, and other materials used to make products is now legal. Allowing transport across state lines is going to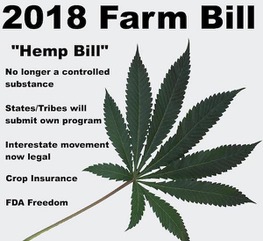 open a lot of opportunities for farmers and business owners.
This bill will also allow farmers growing hemp to be treated as fairly as farmers growing corn. This means hemp farmers will now have access to things like crop insurance, banking services and financial loans. All of this is great news if you're interested in growing industrial hemp to be milled and turned into products like building materials, textiles, and paper, but companies with CBD products are going to have to fight back.
According to the FDA,
"it's unlawful under the FD&C Act to introduce food containing added CBD or THC into interstate commerce, or to market CBD or THC products as, or in, dietary supplements, regardless of whether the substances are hemp-derived. This is because both CBD and THC are active ingredients in FDA-approved drugs and were the subject of substantial clinical investigations before they were marketed as foods or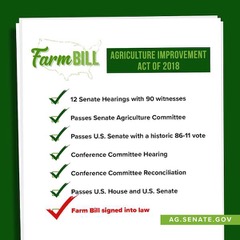 dietary supplements. Under the FD&C Act, it's illegal to introduce drug ingredients like these into the food supply, or to market them as dietary supplements. This is a requirement that we apply across the board to food products that contain substances that are active ingredients in any drug".
So, if you sell hemp derived CBD as a product, you're now committing a federal crime according to the FDA. This is major flag on the play that business owners in each state need to address. The people of Colorado already protected themselves by passing House Bill 1295, also known as the Colorado Hemp Foods Bill, earlier this year. The bill includes language that treats hemp derived compounds like CBD
as food products. It prohibits companies with FDA-approved pharmaceuticals "from preventing or restricting the production, sale or distribution of naturally occurring CBD extracts".
Although this is a major step in the right direction for the production of industrial hemp, this is only the beginning. Each state needs to come up with a game plan to tackle the FDA's new claims against selling or distributing hemp derived CBD. This is a plant, and we should have the rights and freedoms to treat it as a dietary supplement, just like common ingredients in other athletic supplements you find at your local GNC or Supplement Superstore. Huddle with your team and start making plays!