7 Cannabis Yoga Classes in Colorado
Bend & Blaze – Denver, CO

Held at one of Denver's top cannabis friendly venues, Cultivated Synergy, Bend & Blaze is taught by local yoga instructor Amanda Hintz. "This All Levels VINYASA pairs an exhilarating workout with one of our favorite plants for a deeper, more connected experience. Expect to free your mind and connect with like-minded friends". They hold classes 4 days a week and you can sign up here.

Break the Stigma Fitness – Wheatridge, CO

Recently featured in a viral video on Now This Weed , Break the Stigma Fitness is the world's first cannabis friendly gym. They offer several cannabis friendly yoga and fitness classes throughout each week. Yoga classes are 90 minutes long, and are held on Tuesdays, Fridays, and Saturdays. Each class has its own theme, with specific objectives. Be sure to check out their class offerings for more detailed descriptions. Being a stand alone facility, they also offer memberships, which include a generous loyalty rewards program. Classes are invite only and you can register here.

Ganja Guru Yoga – Denver, CO

With class offerings on Wednesdays and Sundays, Ganja Guru Yoga operates out of Urban Sanctuary in Denver. They're goal is to provide "a private exploratory yoga experience, cultivating a synergistic relationship between mind, body, spirit, and cannabis". Besides offering weekly group classes, they also offer private experiences for individuals and groups by appointment only. For more information they have a very detailed FAQ page. Classes can be registered for here. 

Ganjasana – Boulder, CO

"GANJASANA  aligns regenerative cannabis plant medicine 'GANJA' with sacred yoga methods 'ASANA'". Instructed by Rachael Carlevale, co-ed classes, and a women's cannabis yoga ceremony known as The Green Tent, are currently being held at Earth Yoga Boulder. In addition to teaching classes, Rachael also offers cannabis yoga teacher certifications. To learn more about all the great options she has to offer, and to sign up for a class, visit her website.

Greenlove Denver – Littleton, CO

Greenlove Denver hosts cannabis friendly yoga classes in a private residential space. The class size is limited to 6 students, making for an intimate and relaxing setting. Each class has itss own theme, usually paired with a cannabis, health, or fitness company. This helps introduce and educate students about what products are available, and gives them a peek into the blossoming CannaFitness Industry. Register for their upcoming classes here.

6. Secret Stash Yoga – Colorado Springs, CO

Secret Stash Yoga offers a one hour Vynasa flow yoga class, including the mindfulness use of cannabis before or after. Classes are offered 5 days a week at The Original Hemp Cafe, in their 420 friendly lounge, Studio A64 The Original Cannabis Club. These cannabis yoga classes encourage "relaxation, spiritual awareness, bliss and inner self-reflection". Sign up for a class here.

7. Twisted Sister Yoga – Denver, CO

Held at Urban Sanctuary, Twisted Sister Yoga offers yoga classes 5 days a week. They have pop up and private yoga sessions available. On Friday's they host their Ganja Yoga Class intended to "deepen your yoga and meditation practice by incorporating one of nature's sacred teacher plants". Sponsored by Dank Dispensary, each class is actually started with a sangha ganja smoke ceremony using a strain of cannabis specifically created for the class! Register here for classes.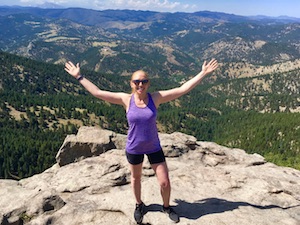 Heather is a sponsored cannabis athlete, content producer, and the Co-Owner of Marijuana Fitness Nutrition at mjfitnut.com. Before becoming an athlete, and advocate for cannabis, she graduated from the University of Missouri, while working full time, and earning her B.A. in Personal Financial Planning. She continued her successful career, rising in the finance industry, only to leave it all behind in search for a life more meaningful. It wasn't until she moved to Colorado, in 2015, when she discovered her true passions, marijuana, fitness, and nutrition. Heather now balances her time between managing her growing lifestyle brand, training for, and placing in athletic competitions, and producing some of the best CannaFitness content in the industry. This requires her to take on the titles of Photographer, Videographer, Director, Editor, Producer…, and the list goes on, but she still manages to enjoy time with her family. Although her adventurous spirit will always take her back out to run a trail, hike a mountain, or raft a river, she loves the peaceful moments at home, and cuddling with her husband, Antonio, and their two cats, Forest and Aspen.