Huff N Puff Fitness Classes in Denver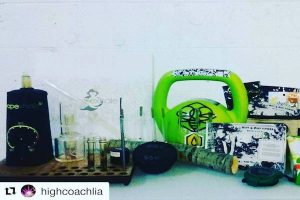 What do you get when you combine the legalization of cannabis and Colorado's fit lifestyle? The rise of cannabis fitness classes! You heard me right. Whether you live here now, or plan on visiting, you can sign up for fitness classes where you are allowed to consume on site, both pre and post training. As mentioned in last week's article on Training with Cannabis, more and more athletes are coming out of the green closet. Everyone from professional athletes who train every day, to the average gym goer is starting to speak openly about their cannabis use, and how they benefit from incorporating it into their fitness routine.
This is inspiring people like myself, as well as people like Lia Oriel of Boulder, CO. Lia is a CannaCoach, and runs her own Huff N Puff Fitness classes in the Denver and Boulder areas. As a CannaCoach, for those who need it, she provides instruction on consuming cannabis as part of her class. She will teach you how to begin a cannabis training routine, what methods of consumption and products she recommends, and why.
"I serve as a sort of soft launch into the world of cannabis for individuals who otherwise wouldn't step foot in a dispensary, or seek answers to their questions. I also find there are a lot of folks in the cannabis community who haven't realized their pot use can help them workout, or meditate, or eat healthier. For these people, I introduce them to strains and products they maybe wouldn't typically try."
The other half of being a CannaCoach is her fitness instruction. My wife and I had the pleasure of getting our asses kicked at one of Lia's Huff N Puff Fitness classes in April and it was awesome! She switches up the routines so the classes are never exactly the same, but always have the same results, getting you fit! You may be huffing during the class, but it wouldn't be Huff N Puff Fitness without some puffing! Classes are BYOC (Bring Your Own Cannabis), and you're allowed to puff in the building before and after class. Huff N Puff even has a dab bar set up where you can take puffs from the VapeXhale Evo, a top of the line vaporizer recommended by professional athletes like Eugene Monroe and Eben Britton. In addition to the dab bar, Lia also offers recommendations and educational information on other products, like topicals and edibles.
My wife and I both had so much fun! Between puffing on the VapeXhale Evo, to getting sweaty as we huffed our way through rounds of HIIT (High Intensity Interval Training). Lia's Huff N Puff Fitness class was the first CannaFitness class I've been to, and it certainly won't be the last. With more of these types of classes being offered, like 420 friendly yoga and other fitness related activities, there are plenty to choose from the next time you feel like getting lit and fit and Colorado.
If you'd like to learn more about Lia, or to contact her to attend a Huff N Puff Fitness class, she can be reached on Instagram and Facebook.
Instagram:
@highcoachlia and @youcannabewell
Facebook:
Huff n Puff Fitness @huffnpufffit and You Canna Be Well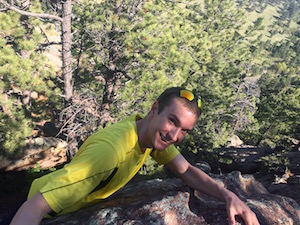 Antonio is a sponsored cannabis athlete and the Co-Owner of Marijuana Fitness Nutrition, which encourages living a healthy and active lifestyle while promoting marijuana's many benefits. A lifelong writer, with 15+ years of cannabis experience, he moved to Colorado in 2015, from Columbia, MO. It is here, in the incredible state of Colorado, where he's found who he truly is. He earned his B.A. in Psychology at Columbia College while quickly climbing the ladder of bank management, before he and his wife decided to leave it all behind, to create more meaningful lives. He and his wife now advocate for their biggest passions, marijuana, fitness, and nutrition. Even when not advocating for the cause, Antonio spends his life orbiting around these three topics. If not in the gym, or enjoying Colorado's many outdoor activities, he's in the kitchen fueling organically for his next activity, all while consuming cannabis. On the rare chance you can catch him lounging, it will be on his plush couch, with his wife and two cats, watching Netflix through a veil of smoke.