Ode to Gorilla Glue #4
Ode to Gorilla Glue #4
Even in the medically legal, decriminalized state of Illinois where we still have to go underground unless suffering from a debilitating medical condition, many varieties are still available. While there are always decent choices around, the pickings are not nearly as vast as the recreational states I've visited. So while I have access to decent weed, it is extremely rare that a strain will affect me so much that I feel compelled to write about it to a large audience. Gorilla Glue #4 is hands down one of the most potent, beautiful, and interesting strains I have ever come across, so I highly recommend taking a minute out of your day as we further explore this amazing plant!
Personally, I have a high tolerance to marijuana. Most strains give me a mild head buzz, dull down my body pains and put me in a mentally better place, but I am still able to go about my day relatively un-phased. Gorilla Glue #4 was immediately different. The buds are very dense with a solid, slightly spongy texture. The odor assaults your nostrils immediately with a very noticeable, toned-down skunky-sweet aroma. It presents in tight, medium sized nuggets that are coated in a crystally resin.
Leafly.com is a great site for discovering strains and their heritage. According to this site, Gorilla Glue #4 is a hybrid strain whose parents are Chem's Sister and Chocolate Diesel. In 2014, it won first place in the Michigan and Los Angeles Cannabis Cups, and has also won the High Times Jamaican World Cup. This does not surprise me though because it really is THAT special! According to reviews on Leafly.com, the THC runs between 27 and 35 percent, which is extremely "high!"
The buds are coated in a stickiness that transfers to your fingers upon touching it pretty easily. This must be where the "glue" part comes from. It also sticks in the manual grinder, with Illinois humidity making it even stickier, so perhaps an electric grinder would be better for GG4. But once the buds are ground, it is a wonderful consistency for combustion, vaping or cooking with.
It only takes a few small hits for this Gorilla Glue #4 to affect you heavily! The flavor is extremely pleasant and pungent and soaks into every taste bud and cell in your mouth. The buzz it creates can be felt throughout your whole body and especially your face. It is extremely long lasting, intense but relaxing and it lasts a lot longer than most strains due to it being almost impossible to ingest very much at a time. At first I felt stimulation and motivation, which lasted for about an hour, when it slowly worked its way down my body and put me in a state of complete relaxation without a care in the world. I remember comparing this feeling to what it would be like if I was drunk on alcohol, but with weed and without the next day hangover.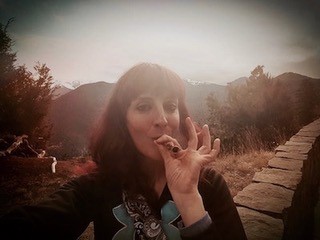 Erin Warwick has experimented with medicinal plants for over 20 years and is currently studying for her Master's Degree in Herbal Therapeutics at Maryland University of Integrative Health. On top of this, she is a fitness expert and Personal Trainer who received a degree in Kinesiology from the University of Illinois. When not immersed in plant matters, she can be found running heavy-duty obstacle coarse races or hanging out with her kids and pets. She thrives to help others obtain full body, mind and spirit health and wellness, and is particularly interested in unlocking the medicinal powers of cannabis and other amazing plants.