420 Games Team Colorado Launch Party is Huge Hit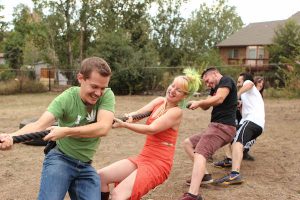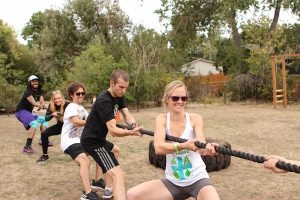 It was a day for the history books as the 420 Games Team Colorado held it's launch party at Break The Stigma Fitness on Saturday, September 9th. The doors opened at 3:20pm with the official kick off taking place officially at 4:20pm. The crowd slowly trickled in for the first 45 minutes, with a surge of attendees showing up in waves just in time for the big spark up at 4:20pm. The energy at the event built momentum and then just exploded at 4:20! Before getting the obstacle course, team tug of war, and fitness challenges started, attendees had the chance to mingle with vendors, socialize with the team, and thanks to the title sponsor, Craft Concentrates, get their photo taken at the photo booth by Kenesha Facello.
Outside, everyone got a chance to test Dipstick Vapes, Grasshopper Vapes, and of course Craft Concentrates! All of these vendors were handing out some pretty serious swag so those in attendance went home with some awesome goody bags. Inside, when people weren't too busy having a blast in the photo booth, shopping the store, or enjoying food and refreshments provided by Marijuana Fitness Nutrition, they were being mesmerized at the sight of the Rosin Press by Rosin Tech pressing their bud into fresh concentrate right before their eyes. If that wasn't mesmerizing enough, they then had their minds blown as the freshly pressed rosin was then moved just a short distance over to Top Shelf Budtending for the freshest dabs I've seen at any event, all year long. If you didn't have your own bud to press, or just wanted to puff some flower, Boulder dispensary Green Dream Cannabis had the entire event covered as the official flower sponsor providing some top notch strains including Scroopy Noopers and Moonshine Haze.
Once the crowd was medicated, and the athletes were activated, the physical activities began. The obstacle course was timed for the winner and consisted of monster truck tire hurdles, followed by agility drills through a tire ladder and through cones. Once agility was tested it was onto strength and mobility with a climb up and swing across the monkey bars before testing speed after the dismount with a short hill sprint to the finish. Alayna Jackson, also known as LaynieGanja came in third with MJFITNUT Cannabis Athlete, and owner of his own personal training business Consciously Fit, Cameron Nedd took second. First place went to another MJFITNUT Cannabis Athlete, The Modern Monk himself, Heru Aman! The crowd was alive with spirit cheering on participants as they ran through the course, and then teams were rounded up for tug of war with both teams taking turns winning the first two rounds resulting in a tie breaker for the win! Just when you thought stoners couldn't get more active, Team Colorado Coach, Lia Arntsen challenged the crowd to calisthenics competing in push up and burpee competitions.
She should have been out of breath, but Lia's also an MJFITNUT Cannabis Athlete who recently completed a full marathon. So she immediately went on to MC the raffle prizes with donated items from Stashlogix, Steepfuze, Miss Mary Jane Co, Dipstick Vapes, Sail Glass, Stillwater, Green Man Cannabis, Break The Stigma Fitness, and MJFITNUT. Following the raffle announcements, prizes were awarded to the winners of the obstacle course and all those who participated in the tug of war. This was the time when Heather I took the podium alongside Jennessa Lea, owner of Break the Stigma Fitness and Coach for Team Colorado. We spoke about the importance of cannabis and athletics, how it's truly changing the perspective for cannabis by promoting it as a wellness product, and how it's impact is not just locally, but globally. After speaking and thanking the crowd, all the vendors, and title sponsor Craft Concentrates people mingled and enjoyed more of the freshly pressed rosin being served up by Top Shelf Budtending. The crowd slowly thinned with time as everyone went home happy with memories, including myself. It was an incredible event, with an amazing turn out, and I couldn't be more happier to see cannabis and athletics growing in Colorado! See you at the next event!