Bongs and Barbells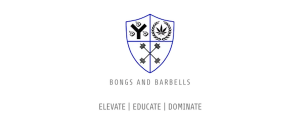 It's been an exciting year in the cannabis and athletics industry. If you pay attention to the headlines in cannabis industry news publications like Sensi Magazine, Merry Jane, The Cannabist, Dope Magazine, and several others you may have noticed a rise in cannabis athletic related topics. Even many mainstream publications like Vogue are covering the rising industry that is CannaFitness. On top of an increase in news publications surrounding my favorite subject, consuming cannabis as an athlete or for overall health and wellness, there has been a rise in apparel companies promoting cannabis as part of a healthy and active lifestyle. One of the most recent ones to spring up is Bongs and Barbells.
"Bongs and Barbells was launched in June of 2017 from a burning passion for cannabis. At Bongs and Barbells, our goal is to provide awareness and education of the growing popularity of cannabis and fitness. We believe that cannabis can be a powerful tool in the athlete's arsenal to increase strength, awareness, and recovery. Furthermore, we strive to demolish the age-old stereotype of the "lazy stoner," and usher in the new era of the medicated athlete".  
They have team members who understand cannabis can offer several benefits to athletes. They use this understanding to deliver helpful information to those seeking to "elevate their life's journey". They also "are dedicated to providing the highest quality products while maintaining our commitment to support those that choose to live elevated". With Bongs and Barbells having such a similar mission to MJFITNUT, I am happy to help promote them in their efforts to de-stigmatize the lazy stoner stereotype! 
The apparel they have is being represented by some heavy lifters, living up to the barbell in their name. Their signature t-shirt bares the Bongs and Barbells crest logo surrounded by the catchy, Altered State. Their most recent t-shirt sports an image of the the top half of a minotaur and is cleverly labeled Cannabull. So far their line of clothing is doing a good job at creating a confident feeling brand, with a mindset of accomplishing goals, and achieving an "Altered State" of consistent improvement.   
Besides enjoying the catchy slogans and cool logos, and on top of also enjoying both bongs and barbells, I'm really enjoying the content they've been putting out on their blog. They cover topics like making gains, stability and strength, alongside meditation, mindfulness, and even bioenergetics. Being a creator of cannabis athletic content myself, I try follow as much related content as I can. The reason I wanted to introduce you to Bongs and Barbells is because of the quality of their articles. They do an excellent job of presenting the reader with valuable information to help you achieve your fitness, health, and wellness goals. The slogan on their homepage says, Elevate, Educate, Dominate. This idealism is reflected clearly in the way they present information to their audience.
In addition to their written content online, they also promote cannabis as part of a healthy and active lifestyle on social media through Instagram. I am all about the promotion of cannabis for athletes, and the more businesses that spark up promoting the same, the more I have to support. It's important we all like, follow, and share the brands and people who are going out of their way to change the perception of cannabis, and cannabis consumers, because it will lead to legalization. CannaFitness, or cannabis and athletics, is going to be the major catalyst that opens the eyes of the world to the many benefits of this incredible plant, so I encourage you to seek out other people and businesses like Bongs and Barbells, who are helping to make an impact on global legalization.