CBD Coffee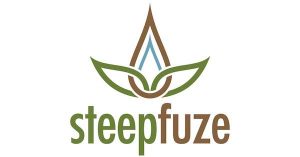 Every morning, the first thing I do after getting out of bed is make coffee. The ritual of making it begins my entire morning routine. I really enjoy dark roasts. I absolutely love the aroma of a freshly brewed dark roast coffee. I even enjoy the smell of walking through the coffee aisle at the grocery store! I like my coffee black, with no cream or sugar. I've come to savor the bitterness and usually will have two or even three cups in the morning. I typically consume cannabis early in the morning too, which is why I was excited when I first found out about CBD infused coffee.
I was first introduced to CBD coffee by Steepfuze. I first met the owners, Devin Jamroz & Ben Glennon, at a Sensi Night in Denver earlier this year. I have seen them at several events throughout the year and have had the pleasure of enjoying their products at events, as well as getting samples which I've enjoyed at home. I like both the Original and Espresso Blend, but prefer the Espresso Blend overall because it's a little darker, and has more of a chocolatey hint. The Original has origins rotating from Ethipoia, Tanzania, Congo, and Kenya. The Espresso Blend is made up of Ethiopian Yirgacheffe, Tanzanian Peaberry, and Guatemala Antigua beans. They are all organic, shade grown, hard Arabica, and responsibly sourced.    
Steepfuze's hemp derived CBD coffee was actually started because of a sport's related injury. "SteepFuze the company was founded in 2014 by Devin Jamroz while on the road to recovery from a snowboarding accident. A gourmet coffee lover, experienced home-roaster, and advocate of legal, US grown hemp, CBD Infused Coffee was a result of home experimentation to stop taking prescribed pharmaceuticals for pain management of his herniated discs".
Having been created as a plan to stop taking prescribed pharmaceuticals to help manage the pain of a sports injury, it only seems natural for their brand to support fitness, and they've done just that. When the 420 Games came to Denver, Steepfuze showed up with bags of coffee as raffle prizes for attendees, and when 420 Games Team Colorado had their launch party, they did the same! Plenty of Cannabis Athletes went home with the incredible hemp derived CBD coffee. Steepfuze doesn't just support fitness, health, and wellness, they also give back to the cannabis community by supporting charity fundraisers like like Boas, Blunts and Bloodshed hosted by Irie Weddings and Events.
I love coffee in general, but when I tried Steepfuze, and realized I could turn my morning coffee into a serving of CBD, I was hooked. They've been great supporters in the local community, and they have consistently gone out of their way to help support CannaFitness. I recommend Steepfuze for anyone who enjoys a good cup of coffee and would like some additional health benefits with each delicious sip. Be sure to check out their website where you can purchase their coffee, and follow and like on social.