Hempy New Year Vegan Dinner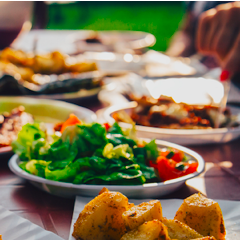 For some, the New Year is symbolic of starting fresh. Many work towards New Year's resolutions to be healthier or happier. Even if you don't set any goals or make resolutions, you survived another year on this planet and that deserves a celebration!
That's why Green House Healthy is hosting a Hempy New Year Vegan Dinner in Denver this January! Their last vegan hemp dinner, Vegan Hempsgiving, was featured in Denver Westword and Livekindly, so treat yourself to delicious and healthy hemp foods prepared by private vegan chef, Sonja Miltner, of Fresh Perspective!
The dinner is for vegans and non-vegans alike with mouthwatering, plant-based dishes
showcasing the versatility of several hemp foods. The menu will feature several local Colorado hemp favorites, Hemp Way Foods, SteepFuze, and Flora's Mercantile. In addition to a wonderful meal, each attendee will receive two drink tickets redeemable for special Hemp Mocktails, infused with hemp derived CBD by Intrepid Botanicals! This is also a perfect way to celebrate Veganuary! Veganuary is a virtual challenge of eating vegan for the entire month of January!
Portions of ticket proceeds for the Hempy New Year Vegan Dinner will
benefit the Medicine Horse Program in Boulder, CO. The Medicine Horse Program enhances the mental health of individuals, couples, families and groups through interactions with horses. The Medicine Horse Program helps so many animals from being killed, while working with therapists with programs to help at risk youth, the LGBTQ community, veterans, grief groups, eating disorders, people who have experienced trauma and more. Green House Healthy's goal is to raise enough funds to sponsor a therapeutic horse for the entire year of 2019.
There are several ways you can help. You can buy tickets for this one of a kind dinner experience. You can bid in the silent auction, which will have items from hemp companies like Clean Coconut, Primal Therapeutics, Hempsley, and Eat More Hemp! If you can't make the dinner, consider contributing to their Facebook Fundraiser Page to help impact the lives of these therapy horses who help people heal.
For those interested in learning more about hemp and cannabis, Green House Healthy teamed up with Growhempcolorado and the Indo Expo Trade Show, who have graciously donated free Industry Pro passes to the Indo Expo Denver 2019, for all of their guests who sign up before January 1st!
If you love animals, our planet, and connecting with like minded people for the good our community, then get your tickets now, and use special code READER for $10 off! The taste of the food will blow you away, and the beautiful decor by Irie Weddings and Events will have you mesmerized. All the while you'll be contributing to an incredible charitable cause, so celebrate gratitude for good health, great food, and the vibrant health conscious community of Colorado at the Hempy New Year Vegan Dinner!