So, You Want To Be A Budtender?
I have not always been too fond of the title budtender, but I always refer to myself as one. I think the person who specializes in all things cannabis, specifically pairing the right strain with the right person ought to have a stronger title. Cannacierge maybe? Budtender feels like an obvious choice, like it was the first suggestion and nobody thought of anything after, but people know exactly what you mean when you say budtender so we will go with it. Weedologist? Ganja Valet? I consider this position to be more of a cannabis pharmacist and less of a bartender. Cannabist? Wait, I think that is already taken.
Regardless of what we call ourselves, a budtender's requirements will include problem solving, knowledge of industry policy and products, teamwork, customer service, adaptability and is not just about getting high all day. I mean you will be getting high most of the day, just not all of the day. The landscape of this industry changes frequently and is also finding its way into untested markets. There is no school to attend or degree you can get, so experience, self-education, and knowledge of your product will go a long way in helping to inform new patients, customers, and possibly even lawmakers. A weed shop is a melting pot, a fusion of culture and as the budtender you are right in the middle of it all with the weirdos, sportos, the motorheads, geeks, sluts, bloods, wastoids, dweebies, and dickheads, and they all adore you, they think you're a righteous dude*.
As a budtender, it is important to do your homework, so get ready for some amazing sleep. It is important to know what factors determine if a plant is an indica or a sativa, what the leaves look like, and how to explain the benefits of a hybrid? If you can learn to identify how a strain grows, then you can tell a customer where it originated. Do you know what the difference between a cannabis plant from the Hindu Kush range versus a plant from Columbia is? What is the difference between Bruce Banner and Headband? Plant lineages are important, with that valuable knowledge and insight you will excel as a budtender. Of course, once you do, then it is time to learn about concentrates.
An enjoyable part of being a budtender is having the ability to offer a variety of products to people who have never purchased cannabis legally. Consumers might even enjoy what they experienced so much that they decide to write their congressman about legalization within their own state. By acting as the face of marijuana, we even have a small ability to help affect change for the better. The best part of this job though, is helping the old broads who "have been smoking weed since before you were born". Back when a dime bag cost a dime ya know what I mean? It is important to know that seniors have quickly become the fastest growing group of marijuana consumers due to finding an abundance of pain relief in cannabis. Those ladies make my day, they're kinda sweet, very sassy, and are always wearing a great hat.
Getting a job in the cannabis industry is not hard. Colorado only requires that you get a background check and if you score a good interview than you're in, but can you explain to me why I would want to buy Tangerine Haze as opposed to Blue Dream? The difference between bubble hash and shatter? Or why CBD is beneficial even though it contains no psychoactive effects? If you can do that than you will make a fine cannabis sommelier. Well, eventually we will come up with a better title for this job, but until then, budtender will have to do.
*Grace, Ferris Bueller's Day Off, 1986
Cannabis products are designed for adults 21 and older.  Please consume responsibly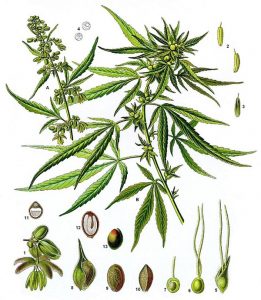 Photo Credit: tecnicoagricola.es
Chris grew up in Dover, Delaware with his sights set on the wild west. Inspired by 80's and 90's- era ski movies Chris found his way to Gunnison, Colorado in 1999 to attend Western State College, now Western State University, and to ski Crested Butte. In this little mountain town in the heart of the Sangre de Cristo mountains Chris also found a lovely little plant called cannabis. Chris still lives in Colorado, having moved to Steamboat Springs after graduating to follow his love of skiing, mountain biking, and all things outdoors. Currently working as a budtender with 7 years experience in the cannabis industry Chris has a passion for cannabis, a desire to write, and a love for Colorado.