Athletes For Care Speak at NoCo Hemp Expo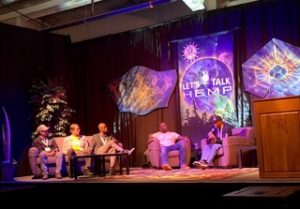 The NoCo Hemp Expo hit Loveland, CO last weekend on April 6th and 7th. The largest hemp expo in the world, NoCo partnered with Athletes For Care (A4C) as their NFP benefactor for the incredible two day event. A4C "is a not-for-profit organization dedicated to creating a community where athletes can find support, opportunity and purpose in life after a career in sports." They "are an organization founded by a group of pro athletes who are uniting as one voice to advocate for research, education, and compassion when addressing important health issues facing athletes and the public at large."
On Saturday, one of the Co-Founders of Athletes For Care and former NHL player, Riley Cote, opened for the A4C educational panel titled, Athletes and Cannabinoids: A Natural Fit. Cote took the stage and shared about his time in the NHL as an enforcer for the Philadelphia Flyers. During his career he took several hits and underwent many surgeries. He discussed his relationship with cannabis; how he used it, and still uses it, as a tool for recovery. Cote also spoke about hemp as a protein source and nutritional fuel for athletic performance. Hemp seeds and hemp protein are now a part of his diet in place of unsustainable whey proteins, which are made from dairy.
After learning more about hemp and retiring from the NHL, Cote founded the Hemp Heals Foundation. It is a non-profit organization dedicated to promoting hemp as a viable renewable resource that can help increase the quality of lives of all people. Now, Cote serves on the Pennsylvania Hemp Industries Council board and is one of the NHL Ambassadors for A4C. His speech ended with the introduction of the educational panel.
A group of former NFL players, all of which are ambassadors for Athletes For Care, collected on stage to talk about how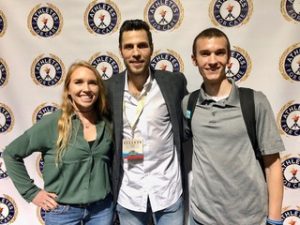 cannabis can play a role in professional sports, especially football. The panel consisted of former Denver Broncos, Jake Plummer, Rick Upchurch, Charlie Adams, Reuben Droughns and Tennessee Titans vet, Justin Sandy. All six of these men shared their struggles with pain from past injuries, the relationship of opioids in the locker and training rooms, and how cannabis has helped improve their overall health.
Every single one of these former pro athletes agreed cannabis should be legalized and made available to players in the NFL, to athletes in other high contact sports, and to people everywhere. The more former and current professional athletes who come out of the green closet and admit to consuming cannabis as a tool for recovery, the easier it will be to prove that cannabis can be part of healthy and active lifestyle. It was a very educational and empowering panel. It was great to see in person and it was an honor getting to meet Riley Cote and the Athletes For Care team! I want to personally thank them all for the amazing work they're doing to de-stigmatize cannabis!