Cannabis for Seniors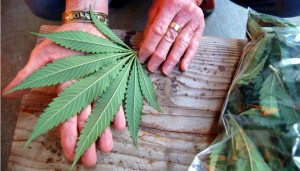 With the legalization of cannabis across more states and the stigma surrounding the plant and its users shifting, so has the demographic of people benefiting from the plant. According to the CDC, Americans aged 55-64 who use marijuana regularly has risen by 455%. Those aged 65 and older has risen by 333% from 2002-2014.
Why is this shift occurring and how can seniors benefit from cannabis?
We know that each person has their own endocannabinoid system. The endocannabioid system has recently been recognized as the most important modulatory system within the body. It is responsible for regulating almost everything from our immune system to nervous system and our vital organs.
Here are some of the top reasons seniors should consider incorporating cannabis to improve the quality of their life.
Improves Memory and Overall Health
The US Government has a patent on the plant for its role as a neuroprotectant, which can slow and reverse effects of diseases such as Alzheimer's and Parkinson's. Once thought to kill brain cells, it has been proven to promote neurogenesis and can improve brain function.
Cancer Prevention and Treatment
Studies from around the world are finding the positive results while using cannabis to reduce tumor sizes in cancer patients. Studies also show the positive correlation of individuals who consume cannabis having lower risks of cancer diagnosis in their lifetime. Those suffering from the side effects of cancer treatments can also benefit from cannabis.
Regulate Weight
Cannabis has been found to increase appetite for those battling with eating disorders and chemotherapy treatments. It has also been found to regulate weight for those struggling to lose weight, finding that users have smaller waist sizes and a decreased risk of cardiovascular disease and Type II diabetes.
Pain Relief
Many seniors are diagnosed with conditions with painful side effects, such as arthritis. Cannabis has been shown to help heal joints and provide relief for achy muscles and soreness without harmful or addictive side effects of pharmaceuticals.
Alleviates Depression and It's Fun
With the loss of loved ones and diagnosis of disease, depression is common among the aging population. The endocannabiniod system regulates mood and cannabis can increase feelings of euphoria that promote laughter and heighten senses.
Promotes Relaxation and Sleep
With insomnia and painful conditions more common among seniors, getting a restful nights sleep can be a struggle. The therapeutic benefits of cannabis promote relaxation and can promote sleep naturally.
Osteoporaosis Prevention
The endocannabinoid system regulates bone production throughout the body and can prevent and treat bone diseases by regulating bone marrow.
Anti-Inflammatory, Antioxidant and Immune Boosting
Cannabis has powerful anti-inflammatory properties which help rid the body of free radicals and regulate the immune system.
Reduce or Eliminate Dangerous and Expensive Pharmaceuticals
Many seniors are prescribed pharmaceuticals for their conditions. These drugs can carry a list of dangerous side effects, may become addictive and are expensive. Many have eliminated their prescription drugs by utilizing cannabis.
Glaucoma
The leading cause of blindness in people over the age of 60 is glaucoma. It has been proven that cannabis consumers found relief from the pressure and is an effective tool in combating the disease.
With the rapidly growing legal markets and the variety of consumption methods, senior consumers are consistently rising. The ability to choose from flower, edibles, concentrates, topicals, tinctures, patches and pills provide the option for those to consume how they prefer and they are reaping the benefits. One senior thriving and utilizing cannabis as a part of a healthy and active lifestyle is MJFITNUT's  athlete of the month Marte' Hepburn. Marte' is breaking stigmas as an active senior using cannabis and inspiring many along her journey! Overall, seniors of all ages are finding a natural way to achieve a healthier, more active lifestyle and improve the quality of their life!