The Cannabegrateful Yoga Challenge
I hope everyone had a terrific Thanksgiving. With it being a time when we all reflect on what we're thankful for, it feels fitting to give some thanks of my own, and to share about my recent experience in The Cannabegrateful Yoga Challange. This Instagram challenge, hosted by Greenlove Denver and Canna_Sam, started on November 13th and lasted for 7 days. Each day there was a specific yoga pose, but the challenge was more than just taking a photo of your practice. The challenge also consisted of digging deeper to share something we were grateful for each day.
The yoga pose line up:
Day 1- seated meditation 
Day 2- cresent
Day 3- dancer
Day 4- half moon
Day 5- tree
Day 6- cow face
Day 7- yogis choice
"Show love and support to the other yogis participating. Have fun, get creative, and share your favorite variation of the pose of the day. Remember to honor your body and not push yourself too hard or far. Be patient with your body and modify as needed. Practice and all is coming"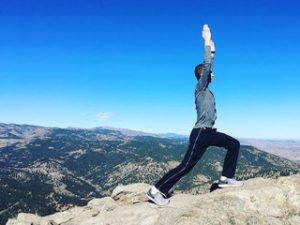 The seven things I shared being grateful for were the challenge itself, living close to the mountains, the simple beauty of nature, water, BeTru Organics Pain Cream, calling Colorado my home, and for my wife, Heather. I was grateful for the challenge because I need to do more yoga and this made me actually practice at least a few yoga poses. Living close to the mountains is something I really love, and I think people in Colorado may start to take it for granted after a while. Nature itself is something that can easily be taken for granted as well. It is important we all take time to get in a nature bath once in a while. There's a connection to the earth that we lose in our busy lives, and I truly believe nature can help balance that out. Water was another one on the list and for good reason. It sustains all life on the planet and the sound of a running stream is quite peaceful.
I've been doing a lot of hiking and trail running along with this challenge and the BeTru Organics Pain Cream has been helping my knees to recover. All of these things can add up to why I love being able to call Colorado my home. Between the great selection of cannabis products, the many rivers and streams, and the incredible mountain views, getting lost in the beauty of nature is easy here. Having the chance to experience this all with my wife Heather, is something I'm truly grateful for. We had a blast participating in the contest together, and we tried to use it as an excuse to get outside and train every day which worked out perfect.
Having reflected on what I'm grateful for so recently, a lot of other thoughts have come to mind, and there is one in particular I feel the need to share. I am personally grateful for the entire cannabis community. Heather and I started MJFITNUT at the beginning of this year, and we had no idea we'd receive the amount of support and encouragement we've seen from all over the community. This support isn't just in Colorado. We met incredible people, with similar missions and mindsets all over California, Washington, and Oregon. I can't begin to name every person and every business that has shown us love in our efforts to change the perception of cannabis through its promotion as part of a healthy and active lifestyle, but I thank you all. It has been your support and encouragement that has fueled our continued efforts and successes, and we are both eternally grateful.
As we go into the last month of 2017, and look towards a new year, there are a lot of new and exciting experiences on the horizon. I look forward to sharing them with you and following along as you share your own. Together we will all make a difference, and that difference is the end of prohibition. This will improve the quality of life for millions of people worldwide, and help save our planet. I thank each and every one of you in the cannabis community and I am Cannabegrateful for your efforts to make this positive change.