Cannabis, Stress, and Mental Health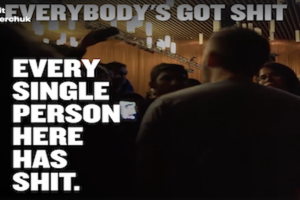 Having recently made a personal commitment to achieve a better work life balance, I find myself feeling encouraged to talk about stress, mental health, and even share a bit about my own life's stressors. Mental health is very important, and the stress of life's bountiful challenges can take a toll on it very quickly. Gary Vaynerchuk is quoted as saying, "Everybody has shit", and he's right. We all have our own shit in our lives we have to deal with. It can often be easy to get caught up in it, to the point you may not consider other people are going through their own shit, so keep that in mind next time you run into someone having a bad day. Who knows what kind of shit they're going through?
As for me, stress comes in many forms, and I've always had personal issues in dealing with stressors. I used to turn to alcohol and drugs including opioids and other narcotics. That eventually led to my juvenile incarceration, which you can find all about in my upcoming full story release, but now I only consume cannabis. One of the reasons I consume cannabis is because of anxiety, typically caused by stress. It now plays a big role in my overall stress reduction, and helps me to be more focused on positivity, which has helped change my overall life perspective over the years. I wasn't always as positive as I am now, and cannabis has helped shift my perspective for the better. I strongly believe this shift has benefited my mental health greatly by allowing me to handle stress more effectively.
Cannabis helps, but it isn't my only solution. I typically combine a healthy combination of diet and regular athletic training, alongside marijuana and hemp consumption. I am also starting to meditate more to help cope with stress as my life has gotten well beyond busy with everything MJFITNUT has become in just it's first year. I am very happy for it's success, but the price has been taxing in the last few months as several projects and events were being released at the beginning of September, all the while having several other major irons in the fire getting ready for release. I will admit I have sacrificed sleep, and neglected my nutrition, and even my training for the past 6 weeks. This resulted in catching a cold for nearly 3 weeks that I still haven't fully recovered from, a minor mental breakdown for a night, and a significant amount of weight loss. I'm sharing these things for a few reasons. First, to highlight how important mental health is, especially in relation to handling stress. The second reason is to set the stage for my upcoming mass gaining program which I plan to start October 1st. My goal is to gain 15 lbs of muscle by the end of December. Over the past 18 months I've withered from a peak of 158 lbs down to 128 lbs. A lot of that was working on an all outdoor 6000 plant cannabis plantation, and competing in races all year, and only about 10 lbs have been lost to not properly taking care of myself as much as I should recently. Follow me on Instagram @antonioderoseofficial to see how I make my comeback.
Then there's the main reason I wanted to be honest about my own struggles. People need to hear it. People need to talk about it. One of MJFITNUT's sponsors is project-22.org which is a cannabis for veterans organization named after the average 22 veterans who commit suicide every day. Suicide is real, and stress and depression affect a lot of people. My "life struggles" pail in comparison to the towering effects of combat related PTSD and other serious mental health related issues, so I really have it easy. The point is, we need to be honest about our own struggles, so we as a society can openly share without fear of judgement. When we share, it lets other people know they are not alone, and can make a significant impact on someone's life, maybe even saving it. Don't be afraid to be honest, and reach out to people often.
Some other tips I have for dealing with stress are making to do lists, keeping a schedule and regular routine, getting plenty of sleep and rest, and of course, consuming copious amounts of cannabis. I personally do all of these things, even if I have been slacking on them more recently, but I plan to change that! I do consume cannabis fairly heavily all day long, which helps greatly with my focus on tasks at hand allowing me to accomplish goals which is what relieves a lot my stress. Proper nutrition and training go a long way in releasing stress as well, and are another all natural remedy for strong physical and mental health. I am personally making the commitment to take my mental healthy more seriously, even if it means slowing down a bit to do so. I also want to encourage you to reach out to your friends and loved ones. You never know what shit might be going on in their life, and it's possible they could really benefit from hearing from you.
Be well all.